The elegant solution for your flower deliveries in Brussels.
You wish to please an acquaintance who lives in Brussels or simply offer you flowers, delivered directly to your home? In addition to being a floral designer and florist, the flower delivery in BrusselsThis is our business. Our selection of bouquets available today for delivery (18th October 2021):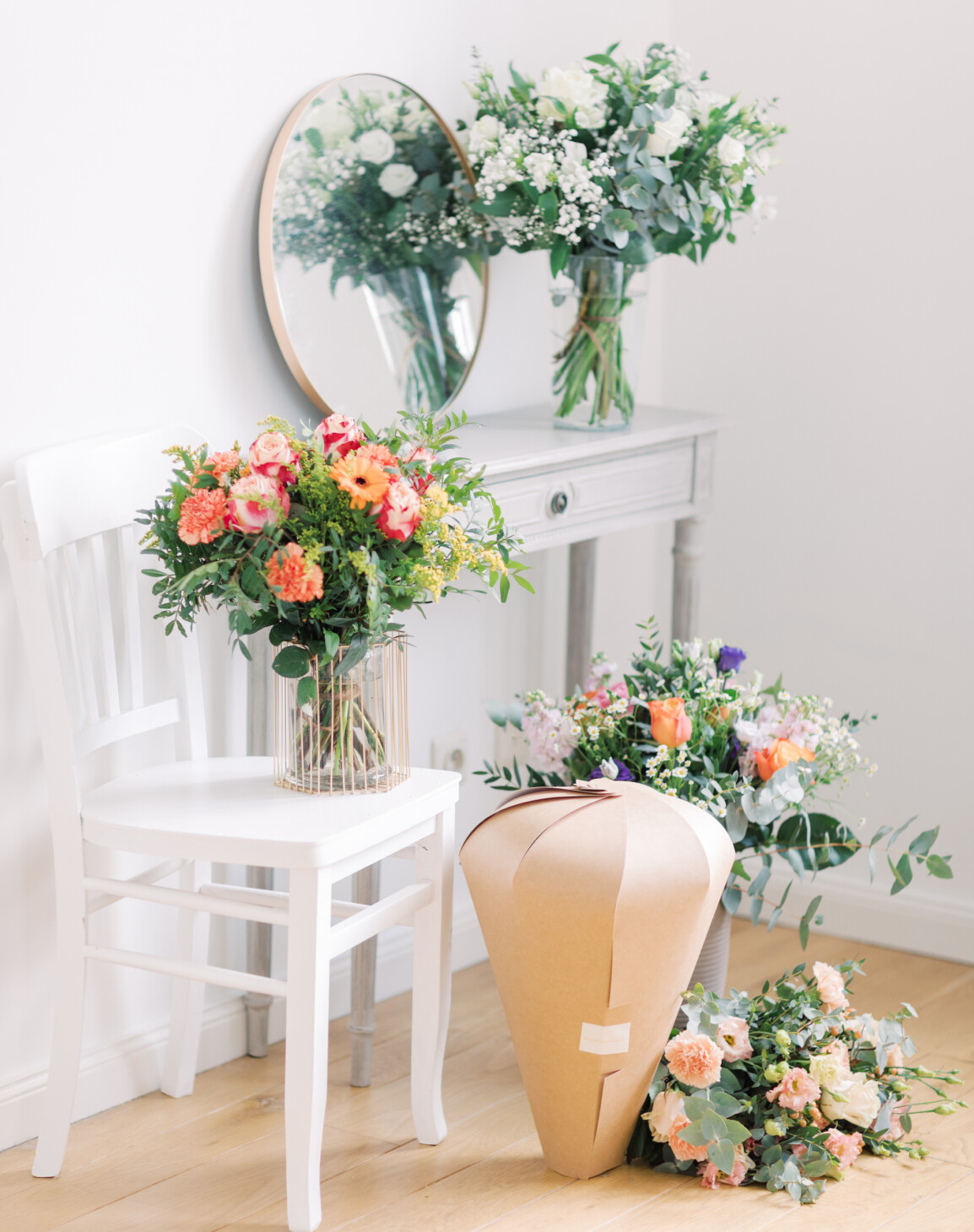 We deliver the most beautiful bouquets of flowers in Brussels
mademoiselle is a selection of 6 bunches of flowers per season, in a price range from 30 to 90 euro to buy online. You will be spoilt for choice. Country, romantic, refined or sparkling bouquets that will enchant the heart of the recipient, whether it is for a birthday, Mother's Day, Valentine's Day or simply to show your love or support to a friend with a flowery gift. And for the more romantic, we have the perfect gift: a beautiful bouquet of red Naomi roses, the perfect romantic touch for the most refined Brussels people. All wrapped up in a beautiful packaging (and well protected for transport), accompanied by a little word delicately printed on a cardboard box, delivered at home with a smile.
Send a bouquet anywhere in Brussels, for less than €9.9 per delivery!
With Miss, make deliver flowers in Belgium and Brussels has never been so simple and elegant. Our team of floral designers whose workshop is located in the Brussels capital put all their knowledge to offer you a range of floral arrangements available for delivery whatever the address of the recipient (home or workplace) in the 19 communes, from the Grand Place to the depths of Ixelles and its Flagey square. We have in Belgium the Lowest delivery costs on the market!
Terms of delivery
Our delivery areas
We deliver our beautiful flower bouquets all over Belgium from Tuesday to Saturday. A BrusselsWe deliver them the same day (before 4pm)!

Delivery rates
The delivery cost is fixed at 9,90 €. We can boast of being lowest on the market.

Delivery methods
The delivery of bouquets, even in Brussels, is complex due to the fragility and delicacy of the flowers. To guarantee absolute freshness, we have developed a packaging system that is not only aesthetically pleasing in cardboard (no plastic), but also ideal for keeping your bouquet sublime. Only the stems are immersed in a small, moist, plastic wrapping, which ensures that they are nourished even during their journey. Our Brussels delivery man and his delivery vehicles are specialised in the transport of fragile products and handle the box with care. We also demand that he reflects the quality of our products. our commitment to excellence in customer relations. An SMS will be sent to the recipient the same morning and the bouquet delivered with a smile and all the respect that a luxury product and service requires.
We deliver our beautiful bouquets of flowers the same day in Brussels.
Have a question? Contact us from 9:00 am to 5:00 pm on our chat (below right) or at [email protected]
Flower delivery in Brussels: 19 communes and areas served the same day!
As an online florist, we send the same day or within 24 hours to the following Brussels communes (delivery areas): Brussels City (1000), Schaerbeek (1030), Etterbeek (1040), Ixelles (1050), Saint-Gilles (1060), Anderlecht (1070), Molenbeek-St-Jean, Koekelberg, Berchem-Ste-Agathe, Ganshoren, Jette, Evere, Woluwé-St-Pierre, Auderghem (1160), Watermael-Boitsfort, UccleForest, Woluwé-St-Lambert, St Josse-ten-Noode.
You forgot your sister's birthday? You only think about it on the day itself? Are you urgently looking for a bouquet of roses, whatever the price? Every day of the week (from Tuesday to Friday) we can deliver the bouquet of your choice the same day (order placed before 4pm). For the rest of Belgium, we offer 24-hour delivery. Please note that we do not deliver on Sunday and Monday. For these days, we advise you to turn to the websites of our colleagues such as Aquarelle, Euroflorist, Fleurop, TopBloemen, Interflora, Fleurop-Interflora Belgium, Florajet, Telefleurs, Floraqueen ...
Day of delivery
Deadlines
Tuesday to Friday
The same day (if ordered before 4pm).
Possibility of UBER EATS Delivery around Ixelles in the HOUR!
Saturday
Order 24 hours in advance
Sunday and Monday
No delivery
Customer satisfaction / Survey
2021
: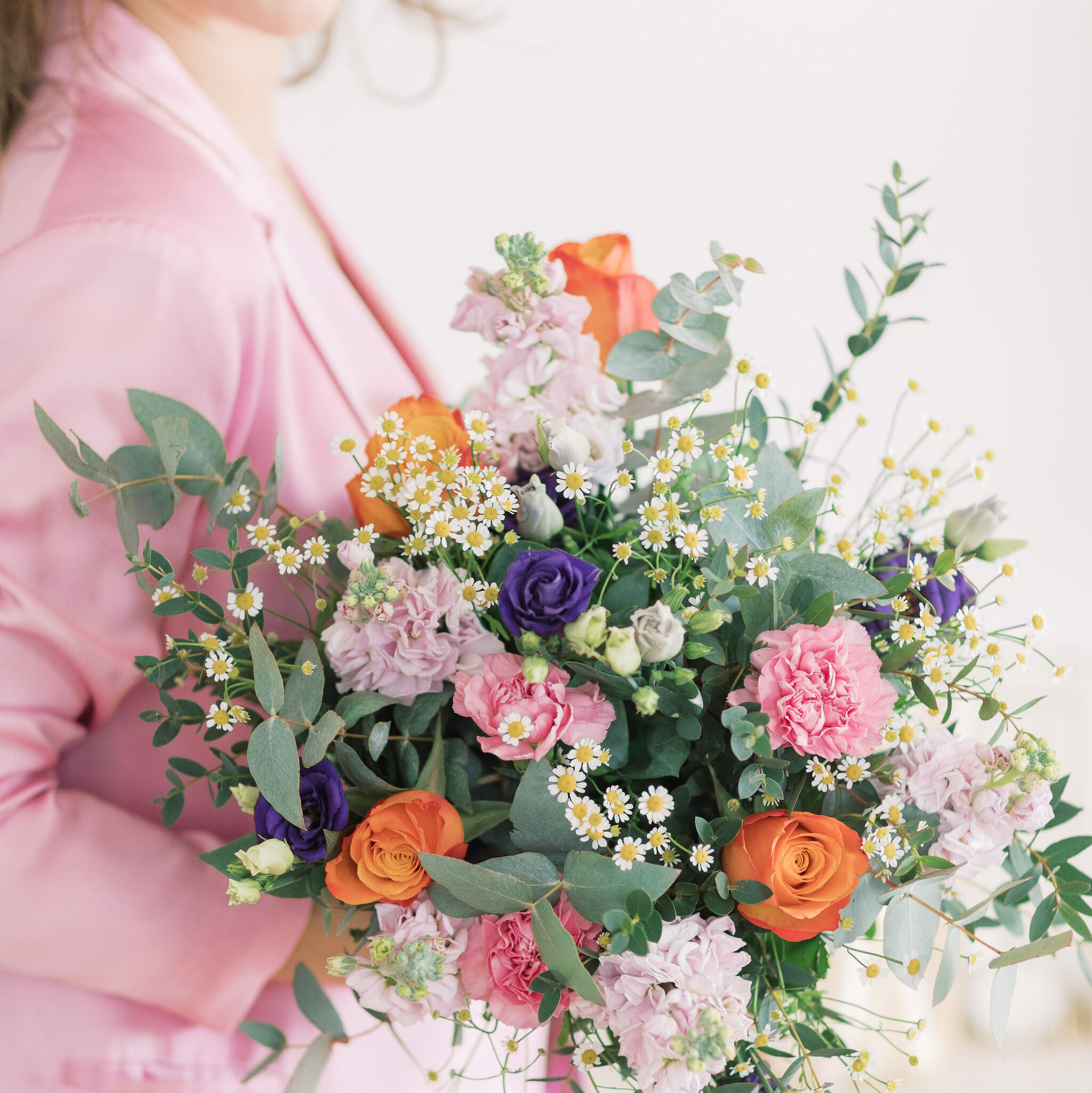 A successful wedding is a flowery wedding!
Your childhood friends or family members are getting married in church at Brussels or on the Grand Place in Brussels? What could be more natural than to show your support for their union with a beautiful bouquet of flowers! We have 6 beautiful bouquets of fresh flowers that will surprise the young couple! Sometimes used as a bridal bouquet or a maid of honorOur bouquets are also used as centrepieces for the banquet... or not far from the cousin during the exchange of the wedding rings.
Show your support in times of bereavement - bouquet of sympathy
Many people wish to express themselves in a discreet but sincere way when a loved one passes away. Bringing a colorful touch of life in this difficult moment is a mark of thought and support to the family of the deceased. Mademoiselle will accompany you in this small flowery gesture during the funeral with a delivery at home or at the funeral hall with a selection of mourning bouquets.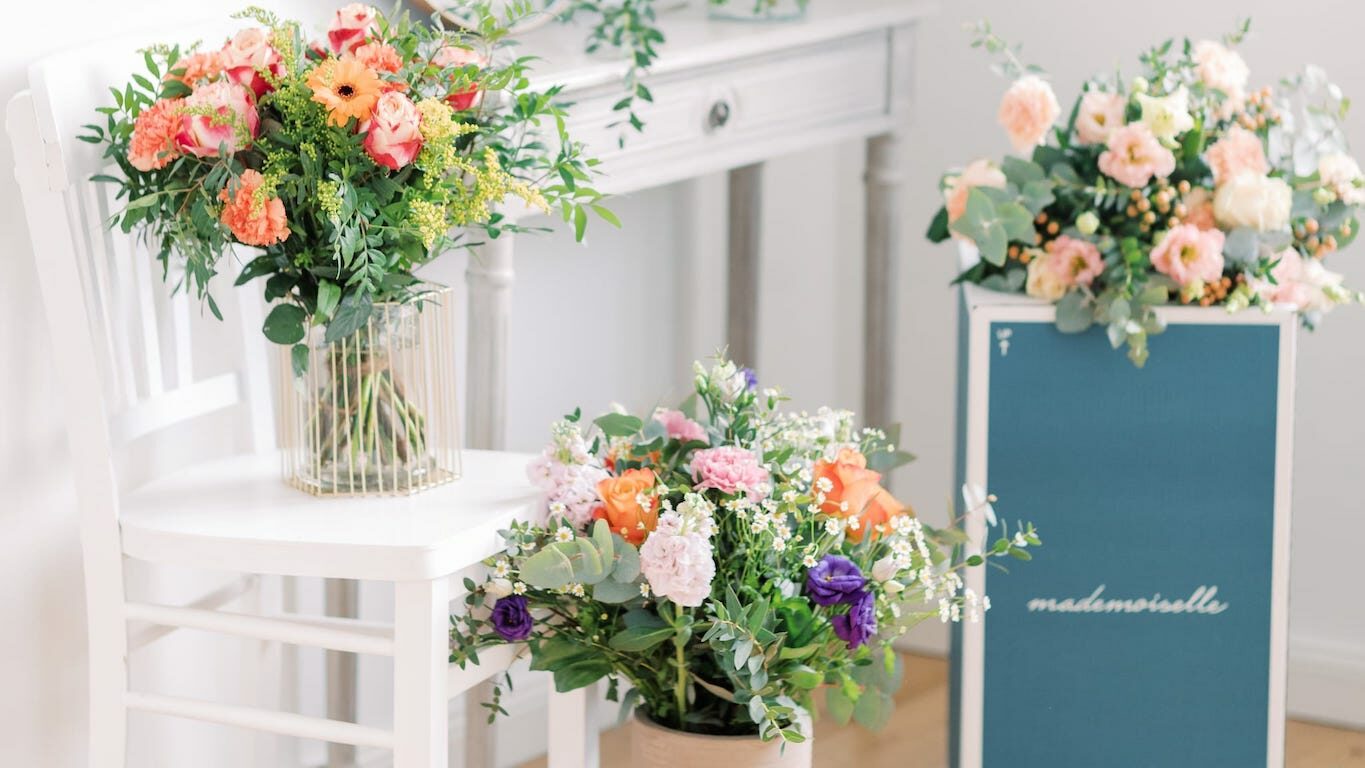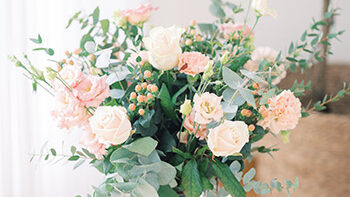 Every district in Brussels is covered by our bouquet deliveries.


We deliver our bouquets of flowers in all areas of the European capital.
Sacred Island
Neighbourhood of the Court
Mount of the Arts
Sablon
Marolles
Midi-Lemonnier neighbourhood
Quartier de la Senne
Quartier des Quais or Quartier maritime
Marais-Jacqmain or Martyrs district (around the Place des Martyrs)
Quartier des Libertés or Notre dame de la neige
Dansaert district
Squares district
Leopold district (also in Ixelles, Etterbeek and Saint-Josse)
North district
Mount aux potences
Treurenberg
Coudenberg
Boondael
Solbosch
Tenbosch
Matonge
Brabant
Dailly district
Diamond
Quartier des Fleurs
Helmet
Monplaisir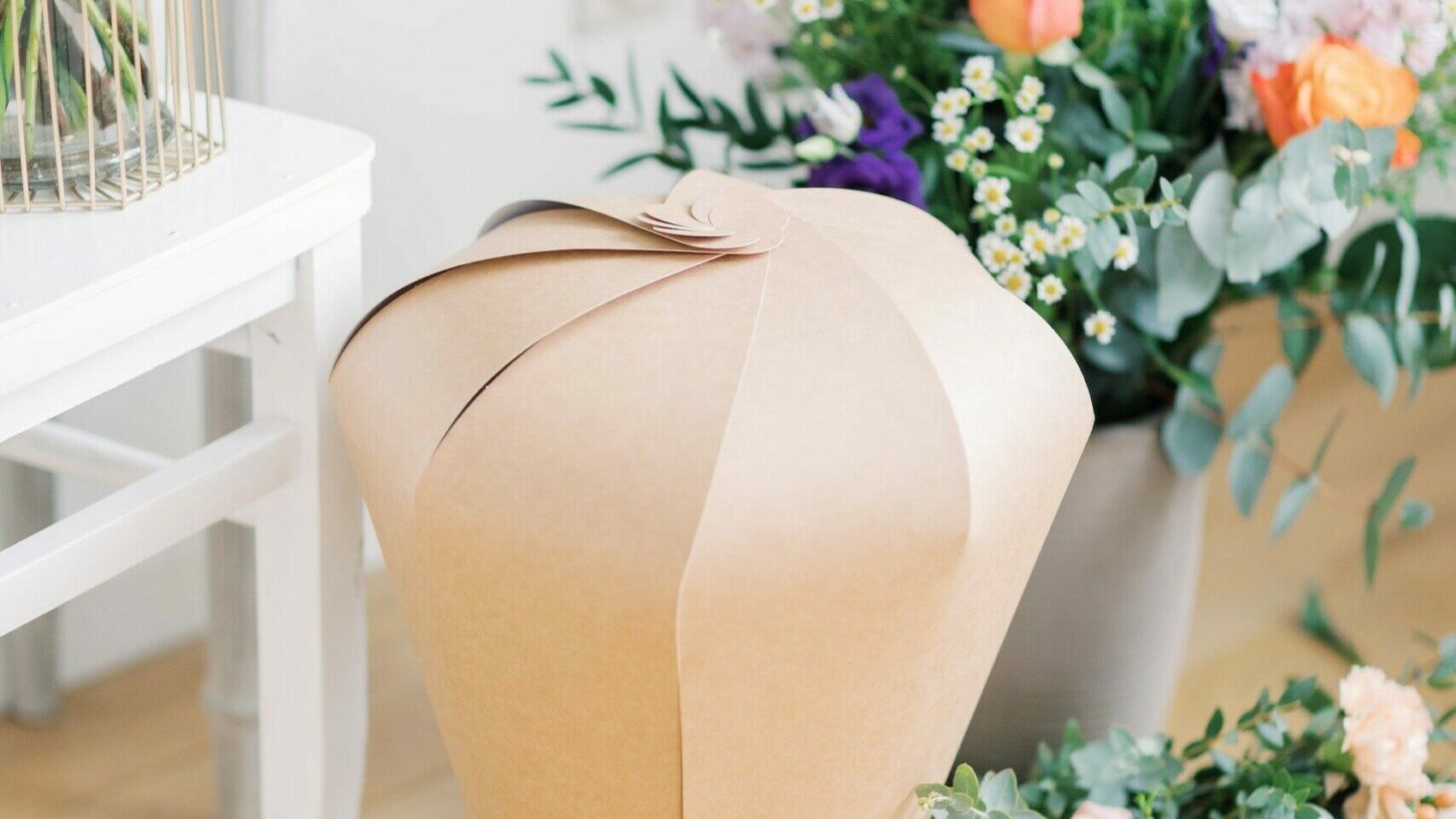 Terdelt
Châtelain
Georges Henri
Gribaumont
Gulledelle
Chapel field
Roodebeek
Star Statue District
Stockel
Avenue de Tervueren
Boulevard de la Woluwe
Questions about our online flower sales service