The flowers
Discover the mademoiselle universe and experience
mademoiselle was launched in early 2020. Its founders wanted to offer a unique experience, far from the existing online offer. A touch of graphic design, the good taste of a high-end experience, a flawless customer relationship for satisfaction and a guaranteed wow effect. Finally the "beautiful" has found its place in the flower delivery in Belgium.
In this guide, we'll cover the entire world of flowers, which will no longer hold any secrets for you! We have covered the universe like no other. Judge for yourself: we will discuss the subject of flower bouquets and their definition (technical and biological), their fragrance but also the meaning of flowers. We will see together the usefulness of flowers as an element of decoration and zenitude and the pleasure it is to offer a beautiful bouquet of fresh flowers, whatever the occasion. This purchase can be made through a florist but also by buying flowers online, which involves all the careful logistics of delivering your bouquet to your front door. Finally, we will not forget the business services that are an important part of our clientele, both to decorate and to thank employees or customers.
Finally, we may have aroused vocations and we will tell you about our job as a florist, behind the scenes of our workshop located in Brussels. And then, who knows, maybe one day you'll join our team for a job as a florist!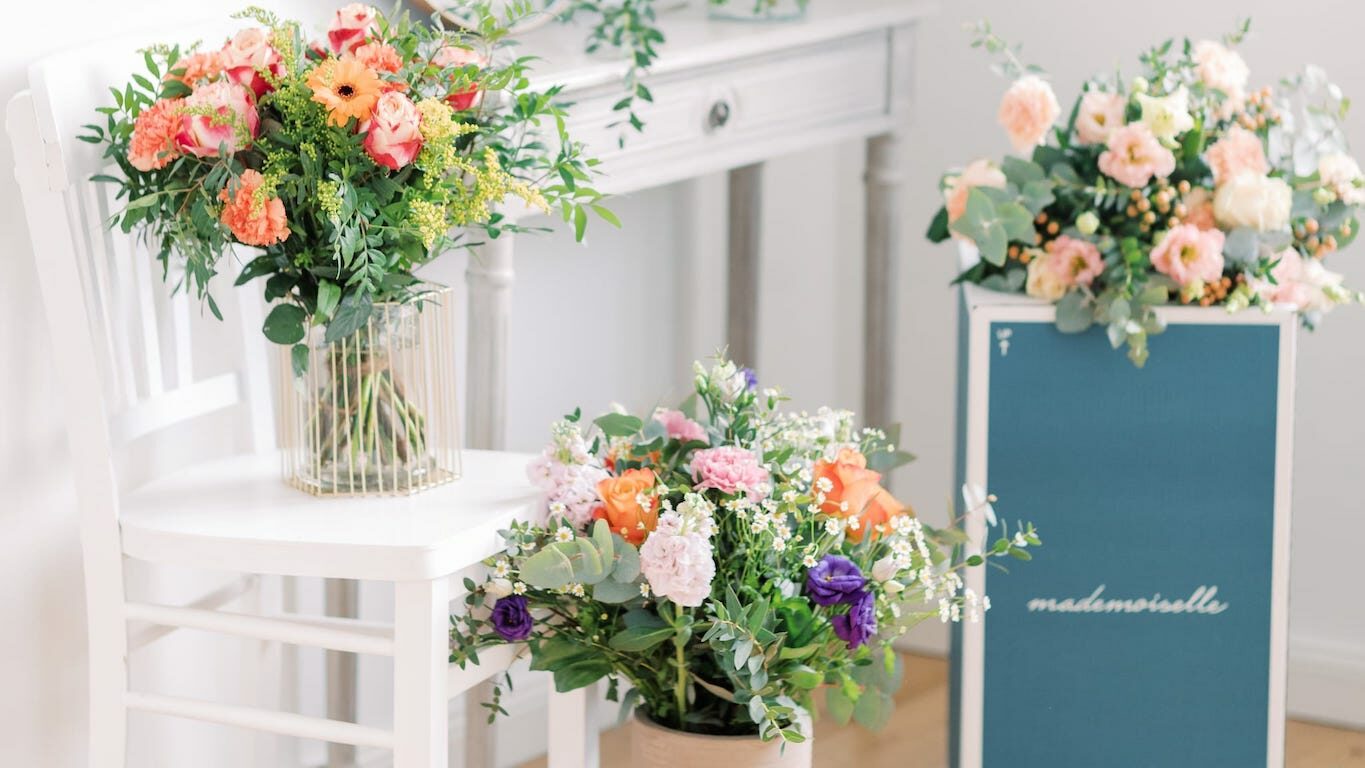 Table of Contents :
What is a beautiful bouquet of flowers?
It's true, after all... what's a nice bunch of flowers. In addition to personal preferences, it is important to consider the composition of a bouquet, its fragrance, its packaging and above all how it will look in your home and how you will care for it.
Knowing the biology of flowers before creating a bouquet
Harvesting the flowers
The scent of flowers
The meaning of flowers in a bouquet
How to design a beautiful bouquet of flowers?
Floral art or how to enhance a bouquet in a house?
Packaging as part of the experience
How to care for a bouquet?
Flowers in all their states: the usefulness of flowers
Flowers in the kitchen
Flowers in companies
Flowers at home
The pleasure of giving flowers
On which holidays do we give flowers?
Life events to which flowers are given
What little note to add to my bouquet?
Who to give flowers to?
Chocolate, champagne, ... which goes well with a bouquet of flowers
Offer a flower subscription
Buy flowers online?
The different types of service providers
The cost and payment of a flower bouquet
Security is an important aspect of online sales
Ordering flowers, the procedure in detail
Send flowers
Where to have flowers delivered?
When is the best time to have flowers delivered?
What is the cost of a flower delivery?
Is there an alternative to paid delivery?
Transport modes in delivery
How does a delivery to mademoiselle work?
Receive flowers delivered to your home
Delivering flowers in Belgium from abroad

Give flowers to a colleague or decorate in your company
Give flowers in a company
Flowering a workspace
The benefits of flowers in business
The florist's trade
Training as a florist
Our workshop, tools and offices
Employment in the flower sector
Being a florist in Belgium
Sourcing", the question of the supply of flowers
Flower logistics